Corporate Gift Guide: Awards and More to Inspire Your Team
The end of the year offers us a great opportunity to reflect on the last 12 months. How did your business grow? Did you strengthen your relationship with employees? How can you improve for next year? End-of-year recognition efforts are crucial in celebrating each successful fiscal year and the team that made it possible. Our corporate gift guide will help elevate your festivities.
In 2021, Cristaux International expanded its family, from hiring new team members to welcoming newborn babies into the world. Along the way, we made sure to pause meetings and express gratitude for one another. From virtual trivia games to in-person raffles, we learned a lot about how to recognize our team members and can't wait to share our insights with you.
Motivated by the power of appreciation, let's see what gifts to give this year.
Gifts for Employees
Your employees have worked hard all year long, so a gift is rightfully deserved. Take a moment to thank them and make that recognition effort tangible. Also, end-of-the-year gifts are a powerful tool for employee retention.
Work Anniversary Gifts
If you have a large team, then it might be helpful to celebrate work anniversaries at the same time. Before the end of each year, implement a service award program covering the past year. Popular options for gifts include:
Company branded swag like champagne flutes and Yeti mugs
Added paid time off
Personally selected gifts with recipient interests and passions in mind
Read this blog post for more employee work anniversary gift ideas.
Retirement Gifts
Retirement is a once-in-a-lifetime occasion for your employees. Celebrate them, their careers, and their legacies with an organized event and milestone award. Also, choose a gift that appeals to their hobbies. Think of how they'll spend their new free time and how you can support that endeavor. For example, if your employee likes to cook, then gift them cooking classes or new kitchenware.
Recognition Gifts + Awards
The end of the year is one of the best times to celebrate your team because it feels momentous. After a year of ups and downs, you can look back, honor achievements, and set the tone for the next year. For your employee recognition program, gift and award ideas include:
Don't know what to name your employee awards? Read this blog post on employee recognition award names.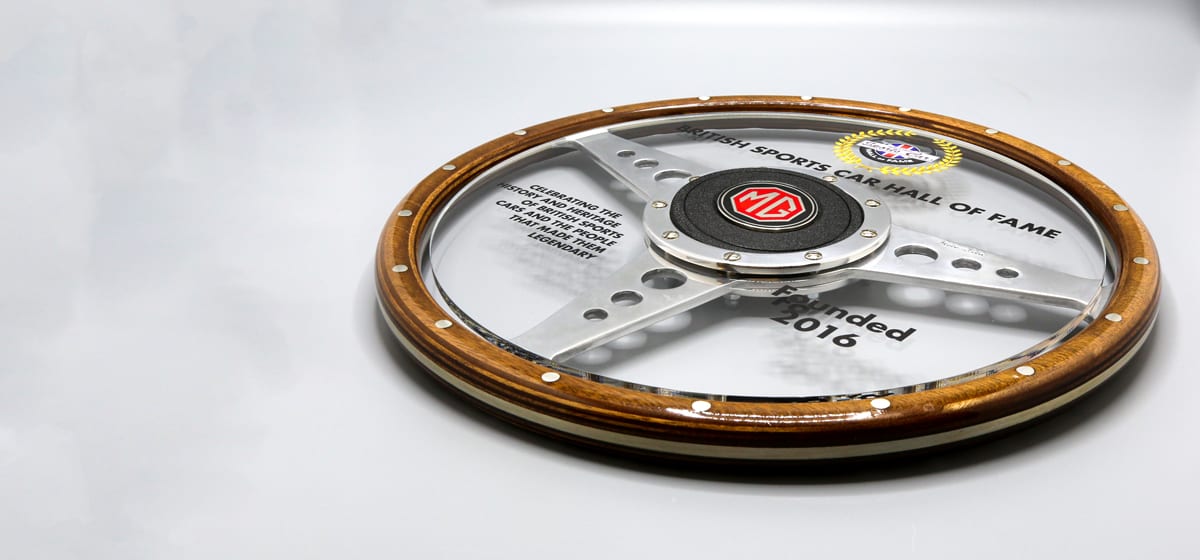 Gifts for Clients + Customers
Your clients and customers are essential to your organization's growth and deserve to know how much you appreciate their business.
Promotional Gifts
During the holiday season, it is quite common for companies to issue promotional discounts and coupons to customers. This can often be motivated by driving sales, rather than evolving the customer experience.
Instead, we recommend you design a promotional gift for your customers who support you this holiday season. For example, Cristaux created a custom ring holder as a promotional product for a global jewelry maker. Even though this was used for Mother's Day, the same philosophy can be applied to the end of the year.
Seasonal Gifts
To reward loyal customers for their dedication to your brand, create an exclusive gift for them. For instance, it could be a popular product available in a limited-edition color.
If you conduct more business B2B and have a list of special clients, then gift them something meaningful for the holiday season. You can offer your own products or find something that caters to their business or hobbies. If they like to travel, then give them a personalized passport holder or luggage tags.
Product replicas make a great gift as well. You can honor the new products launched each year, warmly welcomed by your clients and customers. For Porsche, we created product replicas encased in crystal to celebrate their team's new development.
Select Creations
You have known some clients for years. You've developed a close-knit relationship and couldn't imagine not giving them something this holiday season. To honor them in a special way, design select creations for them. Creating custom corporate gifts shows that you care immensely about your work together.
Gifts for Investors + Donors
Investors and donors are some of the most giving people. They truly want you to succeed and should be celebrated for their support and belief in you.
Recognizing donors can take on many forms. Think about what makes your organization and donors special. What are your values? How do you stand out from everyone else? Celebrate your organization's unique story. Ideas for recognition pieces include:
Lapel pins
Paper weights
Wine glasses
Additionally, you can design your custom awards to vary with each tier of donations. For example, the awards can be different sizes or colors to denote different tiers.
Gifts for Partners + Sponsors
By honoring your partners and sponsors with gifts, you give them something that connects them to their meaningful donations. You show them what their investment made possible. By recognizing their positive impact, you strengthen your relationship and encourage future business.
Celebrate your partners and sponsors with exclusive deal toys or building replicas. These creations can commemorate your most notable mergers, projects, and events from the past year. Although the pieces themselves can be personalized, add a special touch with a handwritten thank-you note.
Gifts for Vendors
Whether they assist you with needed services or help get your products out into the world, your vendors deserve a token of appreciation at the year's end. Although they are not your employees, your suppliers help run your business and are worthy of praise.
At Cristaux, we wouldn't be where we are today without our network. During the holidays, thank and honor your vendors in ways unique to their needs and work. Consider giving them safety awards for a successful and healthy year.
Life Made Easy with Our Corporate Gift Guide
On top of all your other responsibilities, gift giving should not be a point of stress. Recognizing others and showing gratitude makes us feel good, so let's make it easy for ourselves. Each year is marked with its own obstacles. However at the end of every year, it's important to take some time to thank others for all they do.
Contact Cristaux to begin designing your custom corporate gifts today.