10 Ideas for Corporate Gifts for Clients
Clients are a crucial part of business. They support an organization's growth and believe in its purpose. There is a long-term and nurtured relationship that brings all parties success. To strengthen those connections, consider creating corporate gifts for clients. These recognition pieces display customer appreciation and commitment.
The Cristaux team has the privilege of helping design and fabricate business gifts every day. We assist our clients through the creation process, so we know what makes a desirable gift. With 15 years of experience of bringing countless ideas to life, we have expansive expertise and know what works.
Why Give Corporate Gifts to Clients?
Corporate gifts are impactful because they help grow professional relationships. When given to clients, these mementos strengthen those vital connections. These recognition pieces benefit organizations in numerous ways.
Show appreciation
Encourage clients to think of your business
Build long-term potential
Gain and retain client loyalty

Reconfirm or establish connections
Stand out from competition
Attract other clients
Promote positivity
Learn more about corporate gifts for employees.
Corporate Gifts for Clients: Ideas
When choosing what to get your clients, it's important to think about the recipient. How can this gift be special to them? What would they find useful? By thinking with the recipient in mind, organizations can give something meaningful and better their relationship with that client.
1. Barware + Drinkware
Drinking is a popular social aspect of many cultures. Even some people craft cocktails as a hobby. Barware makes a nice gift because it's useful. Depending on the design, it can be classic or fun. Consider the following ideas for your clients.
Decanters
Company branded wine stoppers
Glass tumblers
Champagne flutes
Wine glasses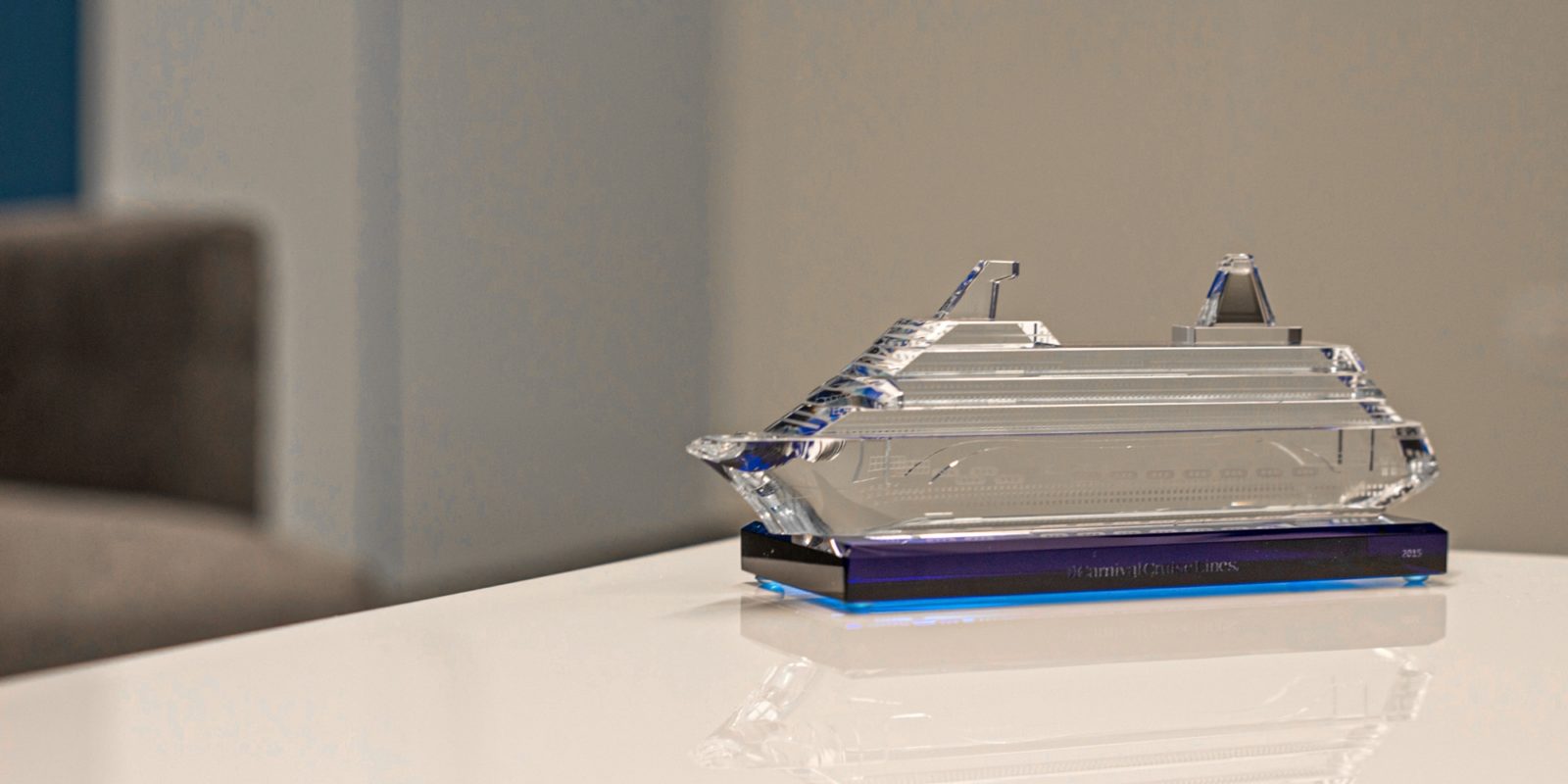 2. Technology
Technology is always evolving, so there's always something new to give as a gift. Devices and gadgets are best for those who love to keep up with trends. Also, these tools can help make life easier. From portable chargers to fitness watches, technology offers countless options for unique recipients.
3. Care Package
Some clients want nothing more than rest and relaxation. Financing a vacation may not be a cost-effective option, so consider creating a care package. First, get to know your client and choose gifts that would bring them joy. After brainstorming what recipients would appreciate most, consider the following ideas.
Candles
Blue light reading glasses
Plants
Coffee or tea

Mugs
Desserts or snacks
Blankets
Knit socks
4. Company swag
Corporate gifts with branding strengthen business relationships while promoting an organization's image. These small yet thoughtful details help grow brand awareness. Essentially, any gift can be branded. From the packaging to the memento itself, the possibilities are endless. Consider branding the following items.
Tumblers or Yeti mugs
Clothing
Keychains
5. Office Accessories
To make a client's workday easier, companies can give office accessories and supplies. For those who are more old-school, customize a notebook. To spruce up recipients' offices, design personalized nameplates and clocks. Regardless of whether clients work in shared offices or remotely, items like these make great corporate gifts for clients during COVID. These small yet significant pieces can be safely and swiftly delivered to any destination.
6. Event Tickets
Gifting tickets to events can treat clients to an unforgettable experience. However, it's important to find something that appeals to them and works with their schedule. Consider sporting events, concerts, conventions, and conferences.
7. Travel Accessories
Travel may be important to many of your clients' work, so give them something to make their travels smoother and easier. For example, branded luggage tags can help distinguish their belongings with flair. Other ideas include neck pillows and passport wallets.
8. Hobbies
The best gifts are selected specifically for the recipients. One way to choose something meaningful is to give a gift that supports their hobbies and interests. This shows appreciation for who they are outside of work. Popular hobbies include cooking, athletics, crafts, and traveling.
Browse our portfolio of custom creations for inspiration.
9. Food
Whether sending snacks to specific clients or catering lunch for their whole team, giving food is always appreciated. However, its' important to note any dietary restrictions or food allergies. By going the extra mile, organizations are rewarded with stronger relationships.
10. Education
Some clients may love enrichment and development most. Consider giving them books or access to online classes, but make sure it's about something they'll find interesting. Common topics include their industry, position, or passions.
Corporate Gifts for Different Budgets
The cost of corporate gifts depends on materials, personalization, and more. Regardless, cost-effective solutions help find gifts at any budget. Corporate gifts for clients under $25 include paperweights, trays, and picture frames. Also, consider ornaments for Christmas gifts. Luxury corporate gifts include custom awards, artwork, and lead crystal vases.
Browse our stock collection to find personalized gifts for any budget. 
Gifts that Celebrate Greatness
To convey gratitude to your most dedicated clients, design and give them corporate gifts. It may be easy to dismiss gift-giving, but it's still a powerful way to show appreciation and to bolster relationships. Inspire continued success for your team and clients.
Contact Cristaux to design branded gifts today.