Comparing Materials: Wood and Acrylic Awards
The perfect material for awards, trophies, or gifts can solidify a vision. With so many materials to choose from, you can achieve any design. Each texture brings a unique character to every creation. Thus, it can be hard to narrow down one's choices. However, wood and acrylic awards are both made from two superstar materials that consistently deliver within reasonable means.
Although both materials are complementary, they have their differences. From their uses to their qualities, they offer different assets for creative visions. Wood and acrylic awards are essential to Cristaux's arsenal of creations that prove that high-quality materials shine.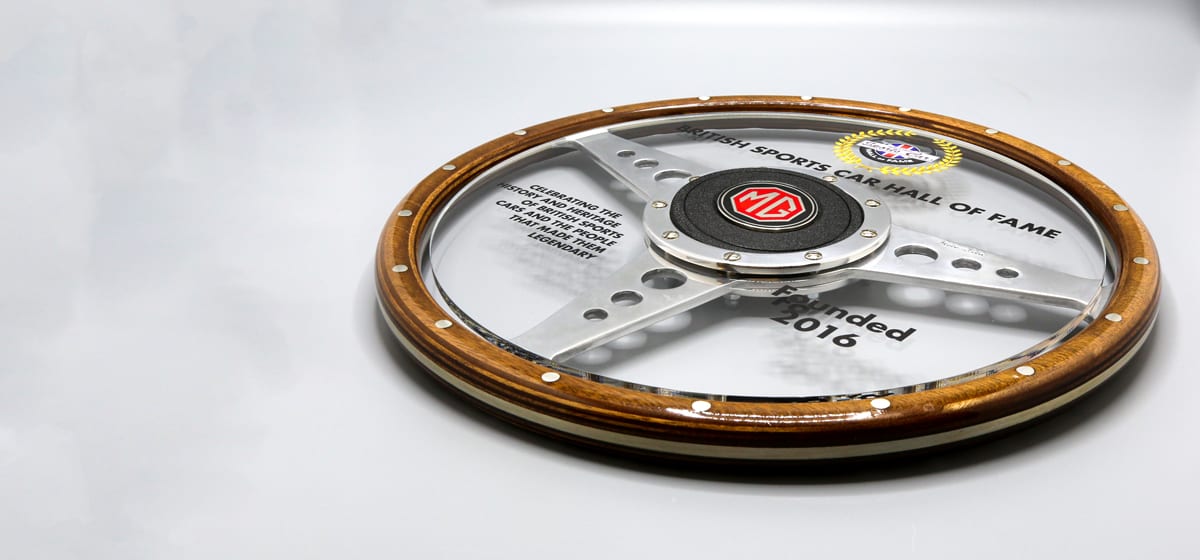 Acrylic and Wood: Definitions
Despite crystal being our namesake material, we love to create wood and acrylic awards because they offer a change of pace. If you're looking for a natural element or vibrant color, look no further.
What Is Wood?
When creating recognition pieces, designers use wood to portray a warm effect. It is a precious and natural material, but some engineered options can be manufactured. Perhaps, the most special aspect of this material is its many varieties. Our selection includes pine, cherry, zebrawood, and other one-of-a-kind beauties.
What Is Acrylic?
Acrylic is a plastic that can be melted and poured into molds. Known for its versatility, acrylic awards come in multiple colors and can be perfectly matched to a company's brand guidelines. At Cristaux, we use Lucite because it is the best in the industry.
Common Uses for Wood and Acrylic
First, wood is commonly used for award and trophy bases and for the frames of plaques. Walnut is one of the most popular varieties supplied to make recognition pieces. It is strong and beautiful and works well in many designs.
Second, recognition vendors often make deal toys from acrylic. Lucite is one of the most common materials for financial tombstones. Beyond these trophies, acrylic is also used to create accents and details for awards. For example, we shaped the material to form the card suit elements for this World Poker Tournament trophy.
Manufacturing Processes
Often, people don't realize how unique a material is until they see what it can produce. How can designers shape it? What kind of finishes can manufacturers achieve? Can these materials become engraved awards? There are so many exciting possibilities when working with wood and acrylic.
Working With Wood
Wood can be cut, sanded, stained, glazed, and more. Recognition vendors often determine the best manufacturing techniques to use by considering the variety they work with. Also, they can engrave wood to feature personalization for recipients.
Working With Acrylic
To make acrylic awards, vendors melt the material and pour it into a mold. Within a few hours, it hardens. To take on unique shapes, engineers can carve, sand, buff, and polish acrylic. Beyond that, it also can be colored and can feature embedded elements. Like wood, it can also be engraved.
Browse our portfolio to see these materials used in custom creations.
Qualities of Wood and Acrylic Awards
To understand how unique wood and acrylic awards are, let's compare their characteristics. It benefits clients and designers to look at materials side by side. Then, the team can easily figure out what will best serve the vision. For each quality, we've ranked the materials on a scale from 1 to 5. One stands for the lowest value, and five stands for the highest.
Weight
Wood: 3-5
There are three categories to note: hardwood, softwood, and engineered wood. While hardwood and softwood are natural and weigh more, engineered options are manufactured and tend to weigh less.
Acrylic: 5
Acrylic can be light. However, if we use a thicker cut, then the weight will increase. This can add a greater feeling of substance to recognition pieces.
Cost
Wood: 5
Due to the increasing demand for lumber, wood supplies have not been able to catch up. This issue increases costs. Also, different varieties are priced individually. If a type of lumber grows slowly and is scarce, then it is priced at a higher rate. For instance, walnut wood is more expensive than others because it does not grow quickly or abundantly.
Acrylic: 3
Ultimately, acrylic is a great material for smaller budgets. It is a cost-effective choice and even more so than standard glass. Additionally, it is easier to shape and cut to size.
Processing Flexibility
Wood: 3
Wood is not known for its flexibility. However, different types show varying degrees of resilience. For instance, ash wood is the most flexible kind and displays a range of versatility.
Acrylic: 5
When compared to glass, acrylic is 30 times stronger and twice as light. It is easier to work with and shows better durability, especially during transportation.
Clarity
Wood: 1
Wood is opaque and does not offer any clarity. It is not like optical crystal and does not allow any light to shine through. Essentially, wood cannot achieve the dazzling appearance of other transparent materials.
Acrylic: 3-5
Due to its ability to be colored, acrylic displays a range of clarity. On one hand, clear acrylic is transparent. On the other hand, colored options may be opaque like wood. It all depends on the use of color and the kind used. The main types are clear, white, colored, and mirrored.
Thickness + Cut
Wood: 3-5
Due to various types of grains, wood may be cut in different ways. This may impact the thickness. Also, the thicker the board, the more it costs. However, it will last longer and show greater durability. Some varieties, like oak and maple, show great strength.
Acrylic: 1-3
Acrylic sheets typically come in ten thicknesses. At Cristaux, we commonly use sheets that are between 1/4″ to 1″-thick. Like wood, the thicker the material, the more costly. Additionally, when cut, acrylic is more likely to scratch than glass.
Different and Distinctive
Wood and acrylic awards can both achieve amazing things for recognition programs. However, each has its own superpowers. When they come together, they form a league of impactful materials. Paired with our expert craftsmanship, these materials can bring any vision to life.
Contact Cristaux to begin creating your custom awards today.